In this help center article you will find the following information


---

Wheelchair and walking aids trips in a nutshell


The booking of a wheelchair accessible vehicle is reserved exclusively for our customers with wheelchairs!
It is possible to take walking aids such as tribrachs, crutches or walkers into any MOIA, provided that they can be stowed and secured in your own seating area or in our luggage area
In particular, it must be possible to fold up rollators. Please also note that the entry into the MOIA takes place over a

small step

If you are travelling with a wheelchair you can order a wheelchair accessible vehicle. Please note: Currently

only available in Hamburg

Those MOIAs are provided with an electro-hydraulic rear lift for wheelchair users and a special passenger door as electric bus swing door with a low illuminatd step
You can order a vehicle shortly before your trip starts or up to 24h in advance
There are no additional charges for a ride in a wheelchair accessible vehicle. As with other service classes, the fare is determined using our dynamic pricing model
The requirements for free transportation with MOIA can be found here
Our drivers are trained to assist you if needed
In order to reduce traffic on the roads, up to 3 other passengers might join your ride. But you can also book multiple seats if you are travelling with friends


Who are the wheelchair accessible vehicles appropriate for?


If you want to go on a trip with a wheelchair or if you have problems to enter our MOIAs because you are walking impaired MOIA Assist might be your preferred choice. If your wheelchair meets the requirements listed below you can easily board the vehicle in your wheelchair via an electric ramp
What type of wheelchairs are suitable to ride with MOIA Assist?
The wheelchair is ideally certified according to ISO 10542 or DIN-7176-19 (incl. test mark on the wheelchair)
Preferably there is 4-point tiedown system on the wheelchair
The wheelchair does not exceed the max. width of 75 cm, max. length of 100 cm and max. height of 155 cm
The weight of the wheelchair including the person sitting in it does not exceed 250 kg
The wheelchair is undamaged
The booking of a wheelchair accessible vehicle is reserved exclusively for our customers with wheelchairs! Due to limited availability and for insurance reasons, transportation may be refused if you do not book a wheelchair accessible vehicle without using a wheelchair
Note: You don't need to request an "Assist" ride if you can fold and stow your mobility aid in the luggage compartment of a vehicle strictly. Also walking aids such as tribrachs, crutches, or walkers can fit into any MOIA, as long as they can be stowed and secured in your own seating area
As the driver is responsible for all passengers' security throughout the trip with MOIA he has the final decision about the transportation of mobility assistances or other items on board


How to book a wheelchair accessible trip


You can request a wheelchair accessible vehicle ride for someone other than yourself, like a family member or friend
You can order a wheelchair accessible trip via our MOIA app only
You can request a wheelchair accessible vehicle on a trip basis (one-time-only) or set up a permanent wheelchair preference in your account settings
Wheelchair access on a one-trip-basis:
You can request a one-time-only ride on a wheelchair-accessible vehicle after having selected your destination. In order to activate the "Wheelchair Access" option tap on the button next to it so that it turns blue. The next time you order a trip with a wheelchair, you will have to activate the option again if needed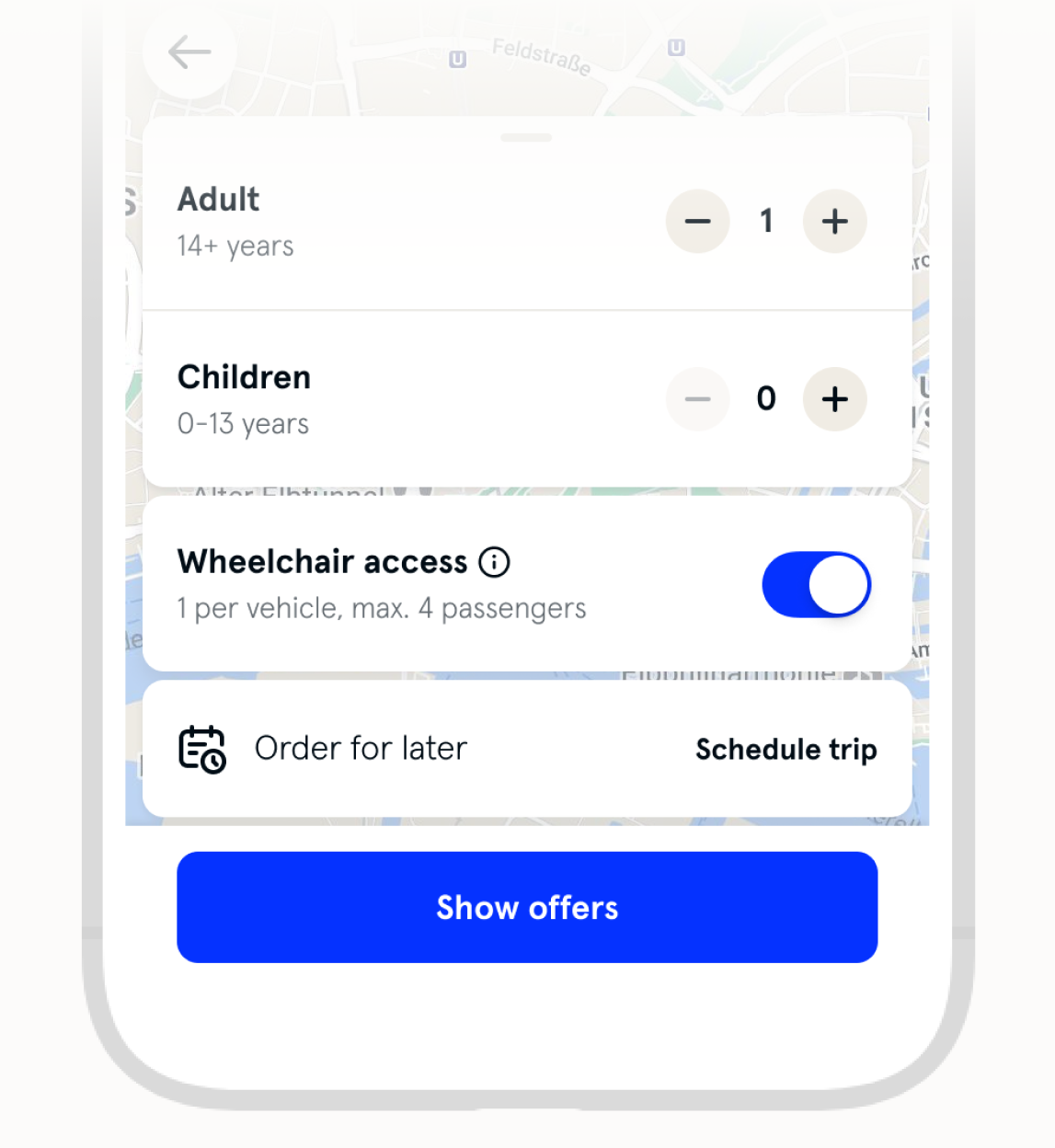 Wheelchair access as a permanent setting:
If you want the wheelchair access to be automatically activated for every booking you can activate "Wheelchair access" in your account settings under "Accessibility"
Activate the category "Wheelchair access" by tapping the button next to it until it turns blue
With the "Wheelchair access" category active, our app will automatically consider wheelchair access for every booking
Please note that we can only use

15 wheelchair accessible vehicles

at the beginning and the availability may be a little bit lower
You can change this setting any time you want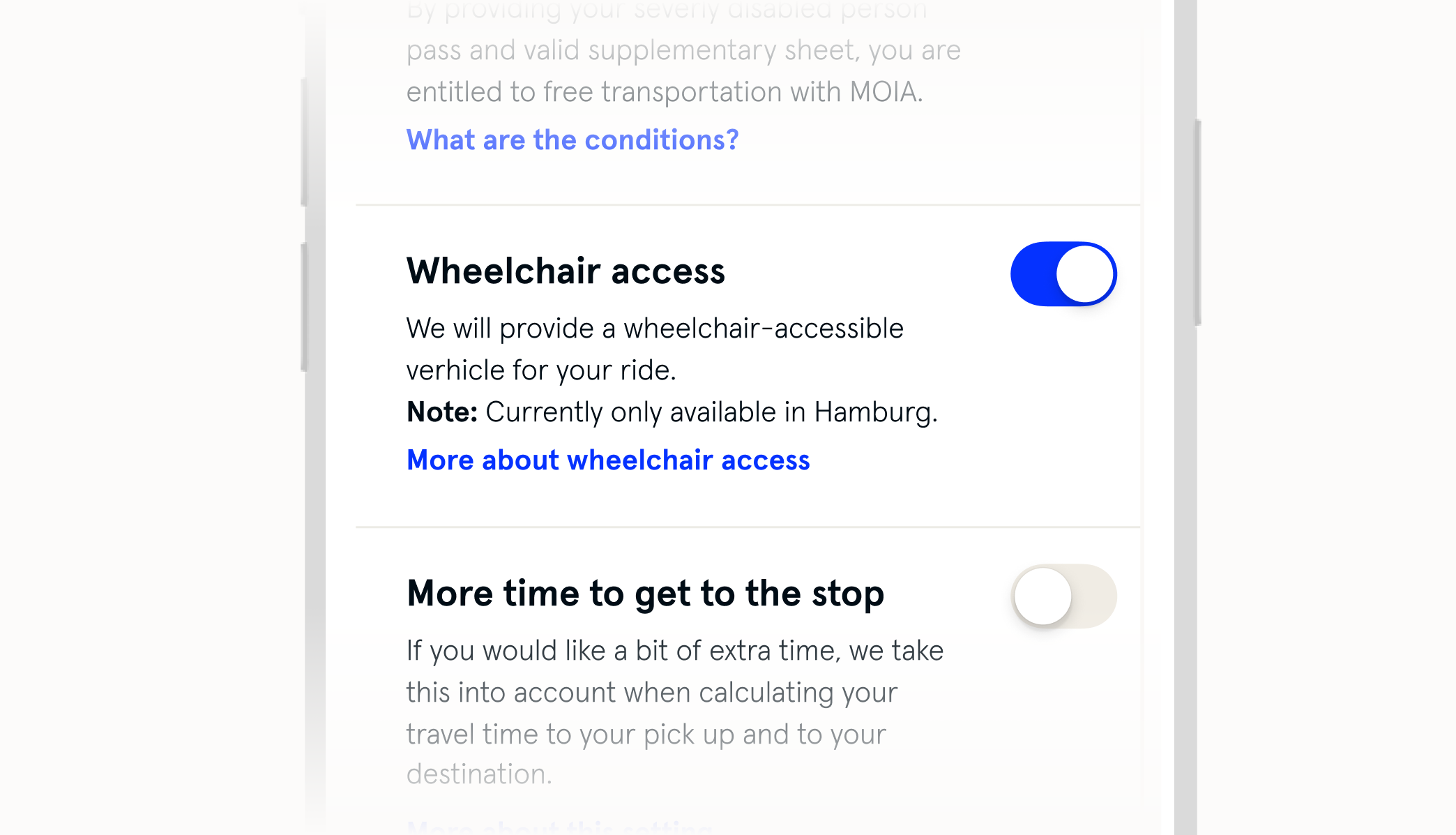 Pre-book a wheelchair accessible trip:
You can order a wheelchair accessible trip shortly before your desired departure time or as a pre-booking up to 24h before the desired departure time
Your way to the stop


We try to find the closest and best accessible stops for you.
Please note that although we display a route to the stop, we cannot guarantee the best possible guidance for you
You can also use different map apps in your device for navigation. How to start navigation with Google or Apple Maps?
Make sure you arrive as close as possible to the designated stop. But don't worry, our driver knows you are boarding with help needed and will look for you

Unfortunately, due to the current traffic situation or other unforeseen events, the pick up time might change. We will keep you updated in our app
Boarding process


As soon as the MOIA arrives at the stop, our driver will welcome you and ask you to what extent assistance is needed. Our drivers are trained and know how to safely assist you during the entire trip from boarding to deboarding
Note: Please don't be afraid to ask the drivers questions or give instructions, especially if you feel unsafe
If conditions require, a ramp and a traffic pylon will be installed to safely get from the sidewalk to the street
Our wheelchair accessible MOIAs are equipped with an electric lift at the rear of the vehicle to get you on board
Your wheelchair will be fixed with a safety belt by the driver
After the safety check, you are ready to go
Take your time! The boarding time is calculated into the ride duration prior to everybody's trip. Other passengers will be informed beforehand that a wheelchair is boarding and that this shouldn't cause any delays


Deboarding process


Just like during boarding you can use the electric ramp in order to exit the vehicle if necessary. Our driver will assist you if needed


After the ride


Maybe you have a comment about the stops because they were not accessible enough for you or you just want to share your experience with us.
We would appreciate your feedback after the trip to further improve our service in our in app feedback or by writing a message to our customer service team
Expanding our service and dovetailing our tariffs is made possible in part by the funding guidelines "Model Projects to Strengthen Public Transport" set out by the Federal Ministry of Digital Affairs and Transport, for which MOIA was selected together with the Free and Hanseatic City Authority for Transport and Mobility Change.