How is the price calculated?
Our price consists of two elements:
Our vehicles and drivers are limited, so this allows us to react flexibly to demand. If fewer MOIAs are available than requested, it becomes more expensive. This is usually the case on Friday and Saturday nights, at typical commuter times or during major events. If demand is lower–for example, during the day in the week–you can get a ride at a special price. Like that, we avoid empty vehicles on the roads.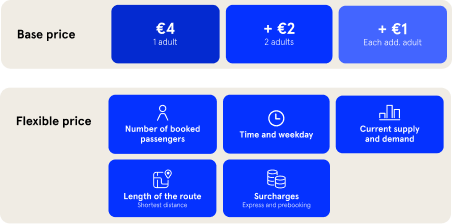 Information about you (e.g. your age or which smartphone you use) does not play a role in our price calculation. If someone requests a trip with the same route and number of passengers at the same time as you, this person will be shown the same price as you. Traffic jams and detours caused by passengers joining your ride don't effect the price. And you always know what you are paying in advance: Once you have booked, the price is fixed.
TIP: To get a feeling for our prices, you can view offers in the app. As long as you don't select "Order now", nothing is booked. But: if you don't book yet, the price may change again.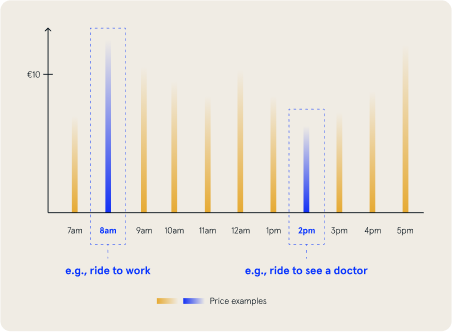 What goes on top?
We charge extra for
express rides
. For
prebookings
, we calculate the amount like a regular ride, flexibly for the time of the request.
Who can ride for free?
In certain cases, you can ride for free with a severely disabled ID card, after prior registration, and/or take an accompanying person for free.
Children also ride free with their parents. If they ride alone, in Hamburg, they'll get a 50% discount.
Unfortunately, pets are not allowed on the ride. Assistance dogs with the appropriate documents are an exception.
Are cancellations for free?
To keep our service efficient for everyone, we charge a fee for late cancellations and missed rides. Learn more in our article on cancellations.