Address:
MOIA Assist Center in the ZOB
Middle building / 1st floor
Adenauerallee 78
20097 Hamburg
Opening hours: Monday - Friday 8:45 am - 4:45 pm
Lunch break: 12:00 pm - 1:30 pm
Closed on public holidays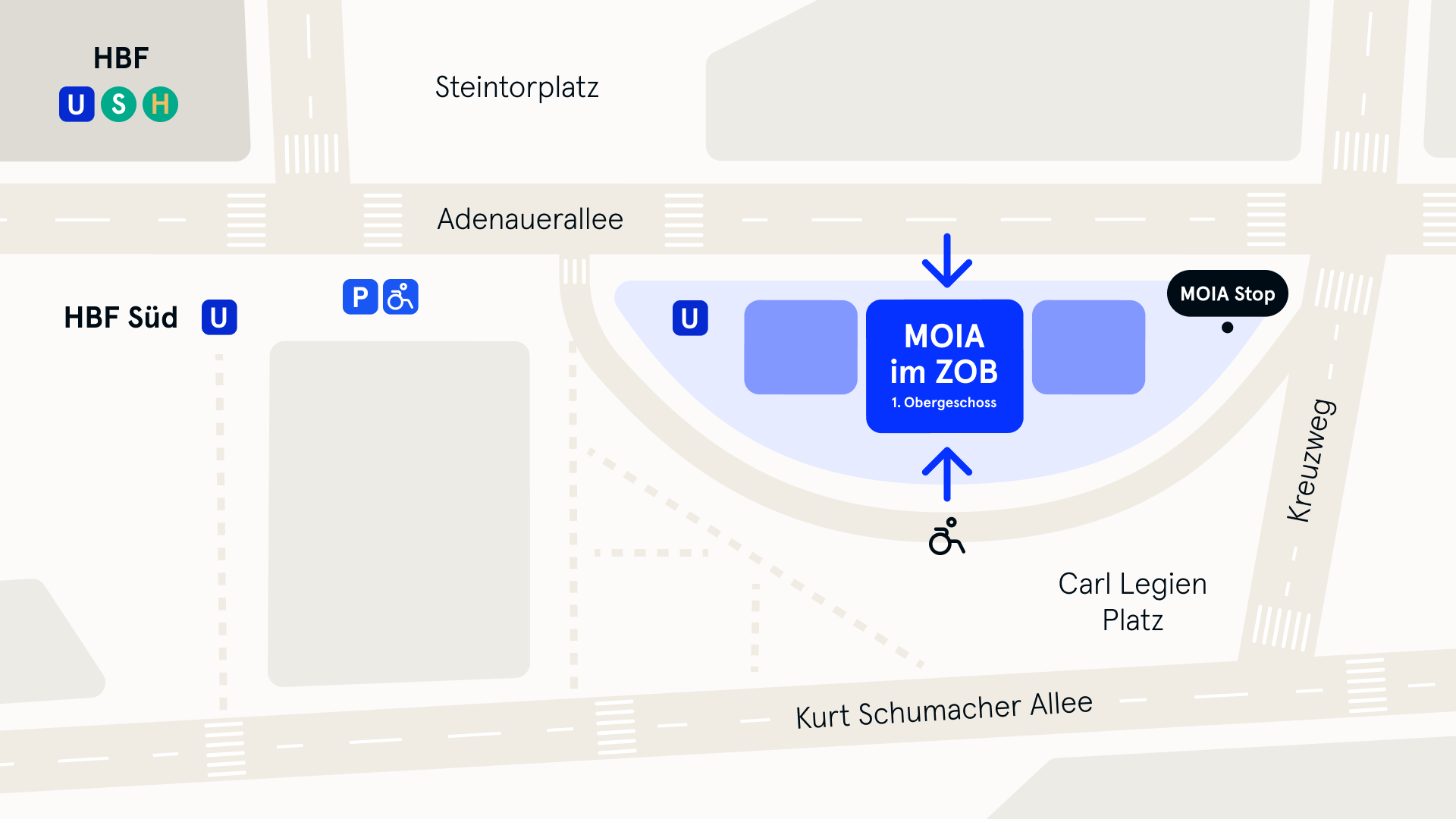 (Attention: The entrance via Adenauerallee is temporarily closed.
Please use the main entrance of "House B" at the bus terminals)
Detailed description of how to get to MOIA Assist Center:
With MOIA you can get off directly at the ZOB. Simply enter ZOB Adenauerallee or ZOB BUS-PORT Hamburg as your destination in the app.
Bus lines 2, 5, 16, 18,19, 120, 122, 124, 224 as well as X35 and X80 have a "Hauptbahnhof" stop on Adenauerallee in the area of the ZOB building.
The U1 and U3 subway lines have exits on the southern side of Adenauerallee and even have a stairway directly to the ZOB building. The corresponding elevator is only one traffic light crossing away from the building. From there, you will first encounter the ZOB building A (there is a kiosk and a well-known fast food chain in this building) and behind it is the building B. Building B is the main building. In this building are many travel service providers and also we from MOIA.
All S-Bahn lines and the U2 and U4 stop at the Hauptbahnhof Nord and require a longer walk
A disabled parking space is available next door in the Steintordamm parking lot (north of the Museum für Kunst und Gewerbe).
On site:
When you arrive at the central ZOB building, please use the main entrance on the south side, which is equipped with automatic doors.
Our office is located on the 1st floor on the left side.
The staircase and a wheelchair accessible elevator are located in the center of the building.
The elevator has two exits. If you are standing in the elevator facing the control panel, you will exit to your right on the 1st floor
After a few steps you will find our MOIA Assist Center on your half right hand side
The office door is level with the floor and wide enough for wheelchair users
There is a barrier-free WC in the basement if required.

After we have approved your account for the free ride status, you can use us free of charge according to our requirements. During your appointment we will explain to you how you can use our service. You can also get some important information here.
Expanding our service and dovetailing our tariffs is made possible in part by the funding guidelines "Model Projects to Strengthen Public Transport" set out by the Federal Ministry of Digital Affairs and Transport, for which MOIA was selected together with the Free and Hanseatic City Authority for Transport and Mobility Change.