General information


You always need to log in to the MOIA app if you want to register for the first time (new customer) or if you have been logged out of the app (existing customer)

How to download the app, you can read here

As long as you do not log out or use another device you remain logged in. As an advantage you can directly book a MOIA as soon as you open the app

To make it easy for you to use MOIA, you do not have use a password during the log in process

The security requirements are constantly increasing. Since the beginning of May 2023, we have been various verification mechanisms
Access to the app and your individual MOIA account is linked primarily to the mobile number and the smartphone and additionally to your email address


How does the registration process work for new customers?


You will need the newest MOIA app to complete the new secure log in process. Download the latest version if necessary
New customers will be guided to a registration process were they need to verify their smartphone, a mobile number and email address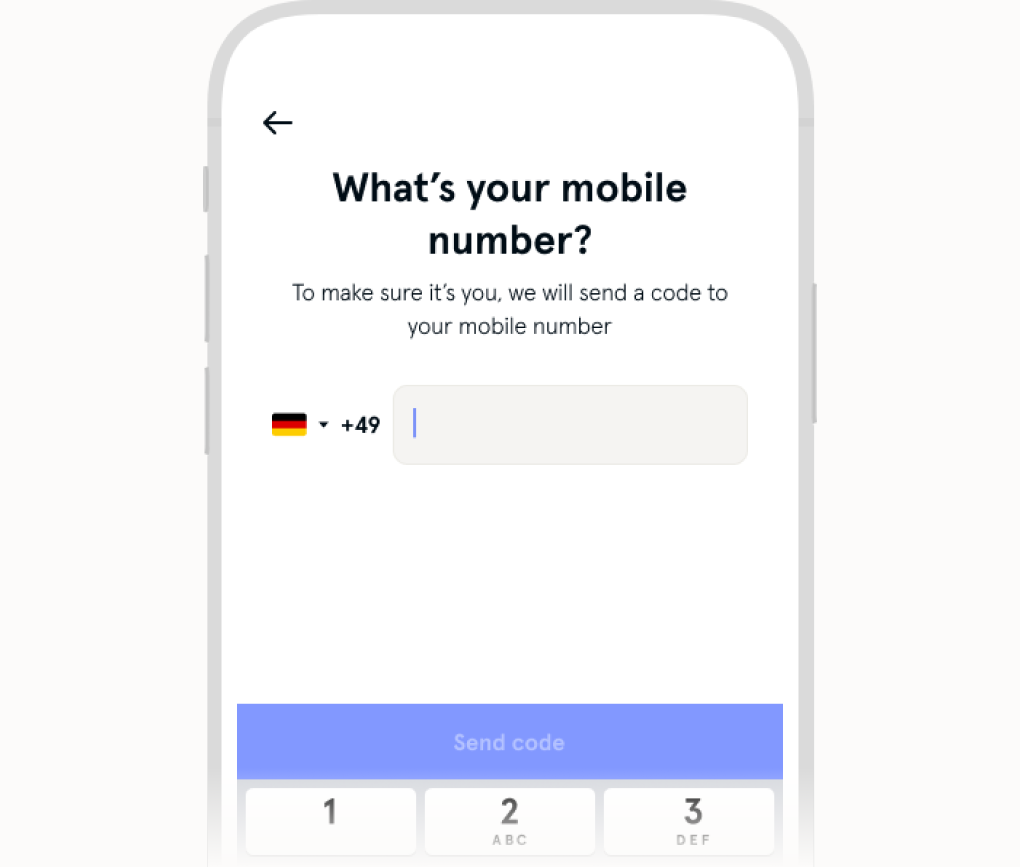 At the beginning you will be asked for your mobile number. Please enter it with your country code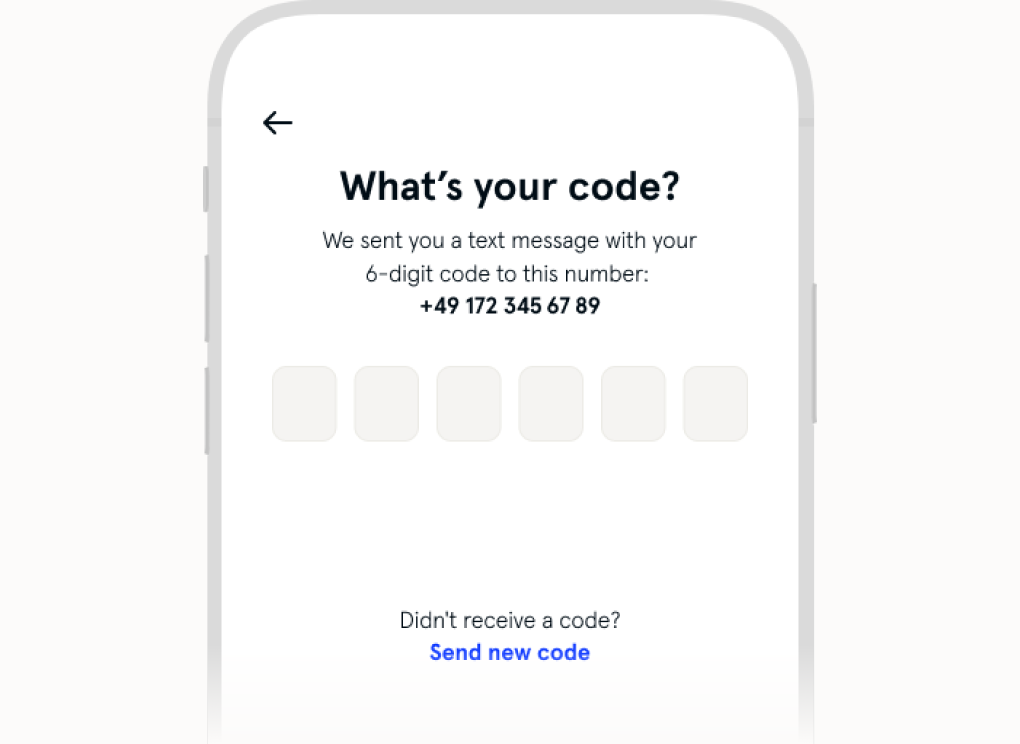 You will receive a code via text message (this can take up to 3 minutes). For Android operating systems, the code is filled in automatically. For iOS operating systems, tap on the code that is displayed above the keyboard and it will also be inserted automatically. It is also possible to enter it manually. You will receive a new code every time you try to log in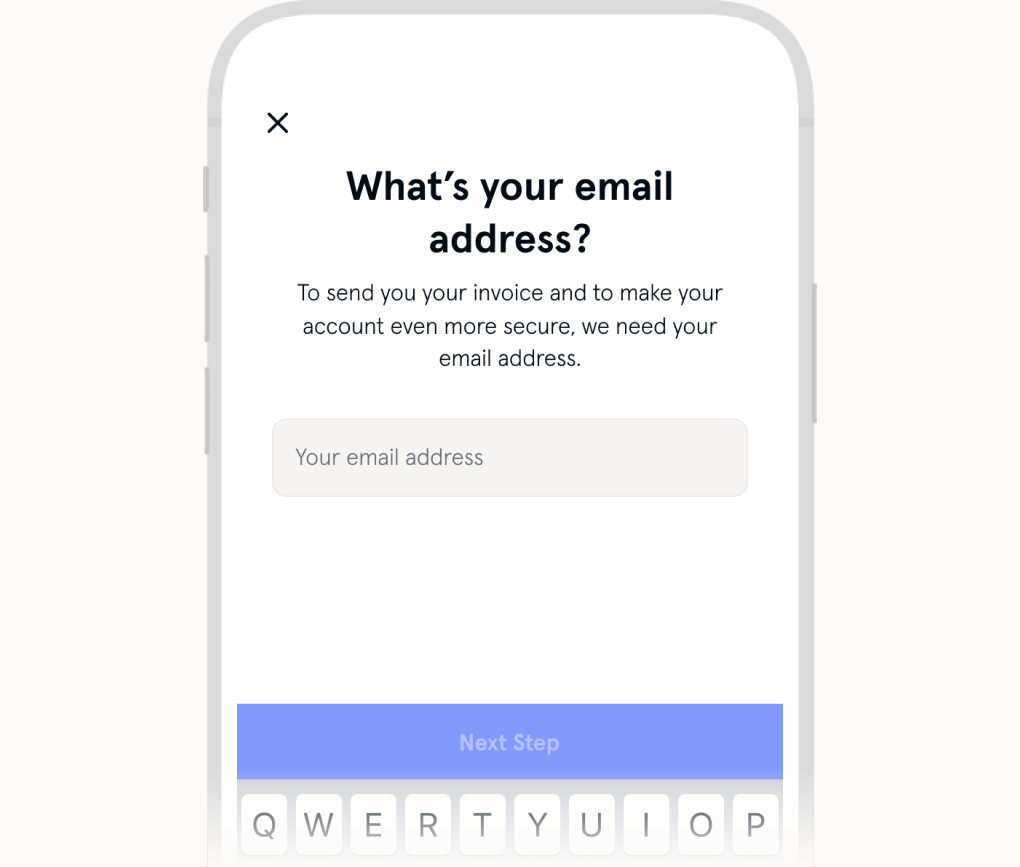 We need your email address to send you the invoices of your rides, for example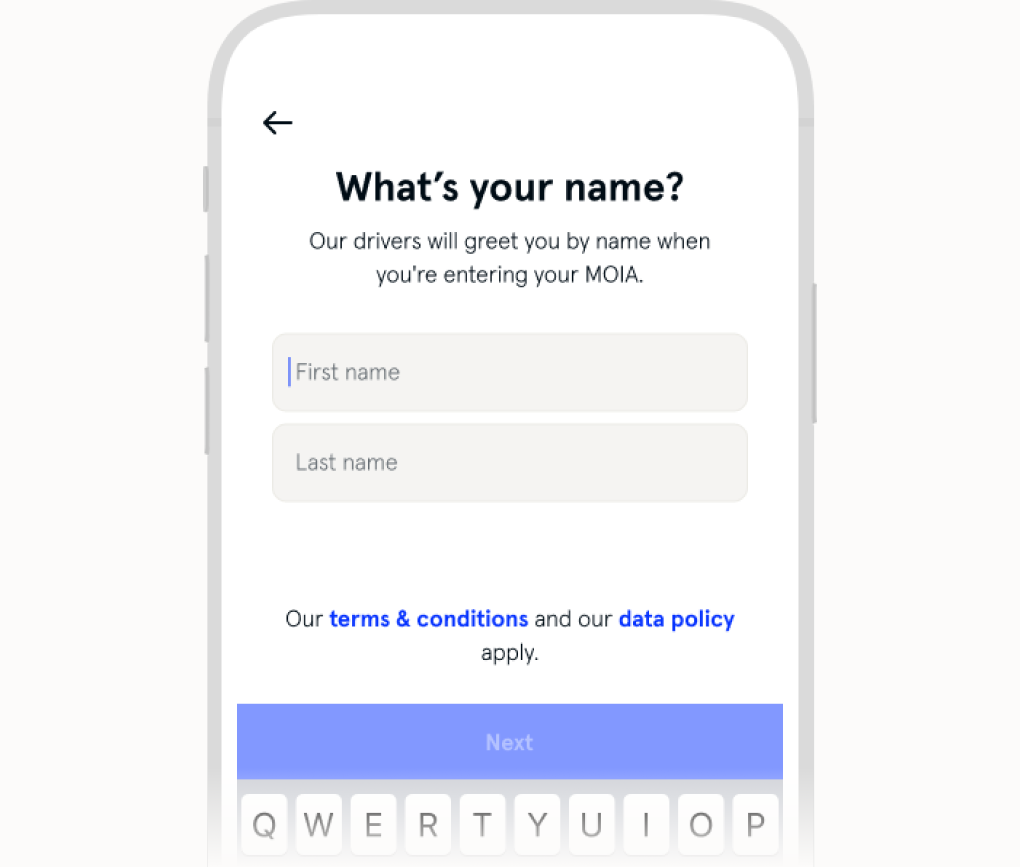 Complete your profile by entering your name and confirming the terms and conditions
Log in as an existing customer?


You have to repeat the authorization steps if you have been logged out of the app or if you want to log in from another device

Our system recognizes whether you try to log in

with a known or new smartphone

a known or new mobile number

a known or new email address

Depending on your situation, you will be guided through different registration steps
It is important that you log in with the same data that you have stored in the past to avoid creating a new account
In the end it is important that all security mechanisms are stored in your profile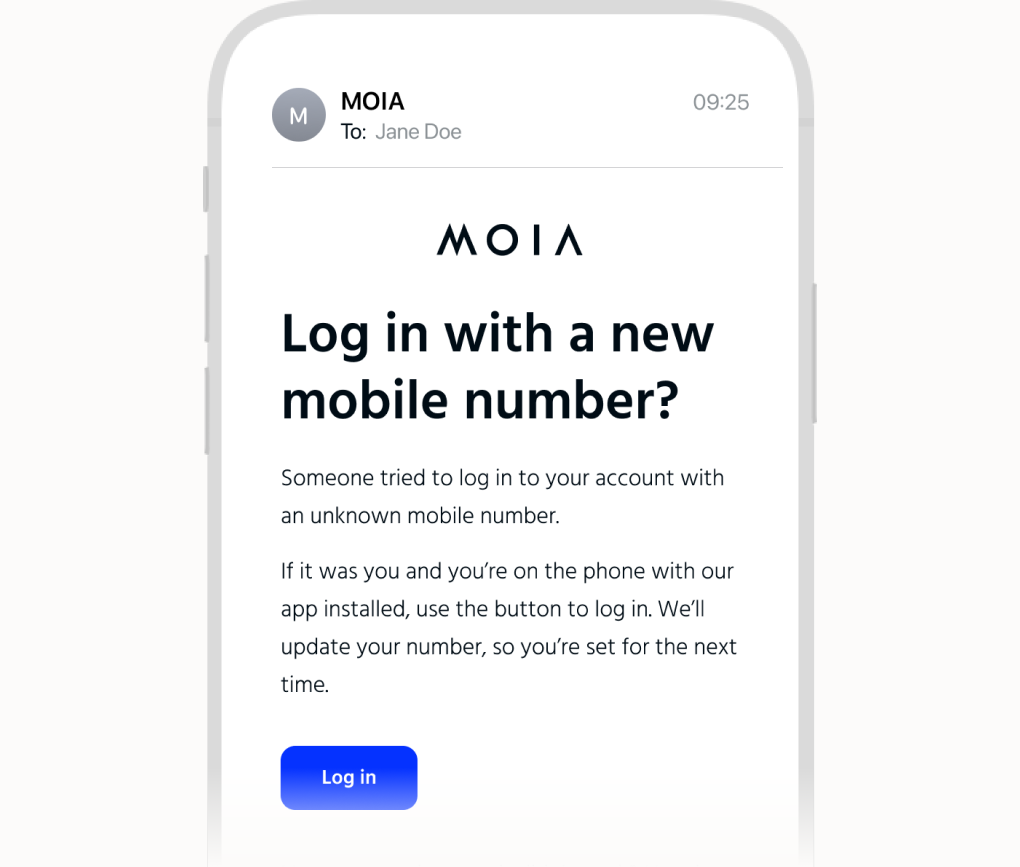 Are you logging in with a new smartphone? Then you may receive the message above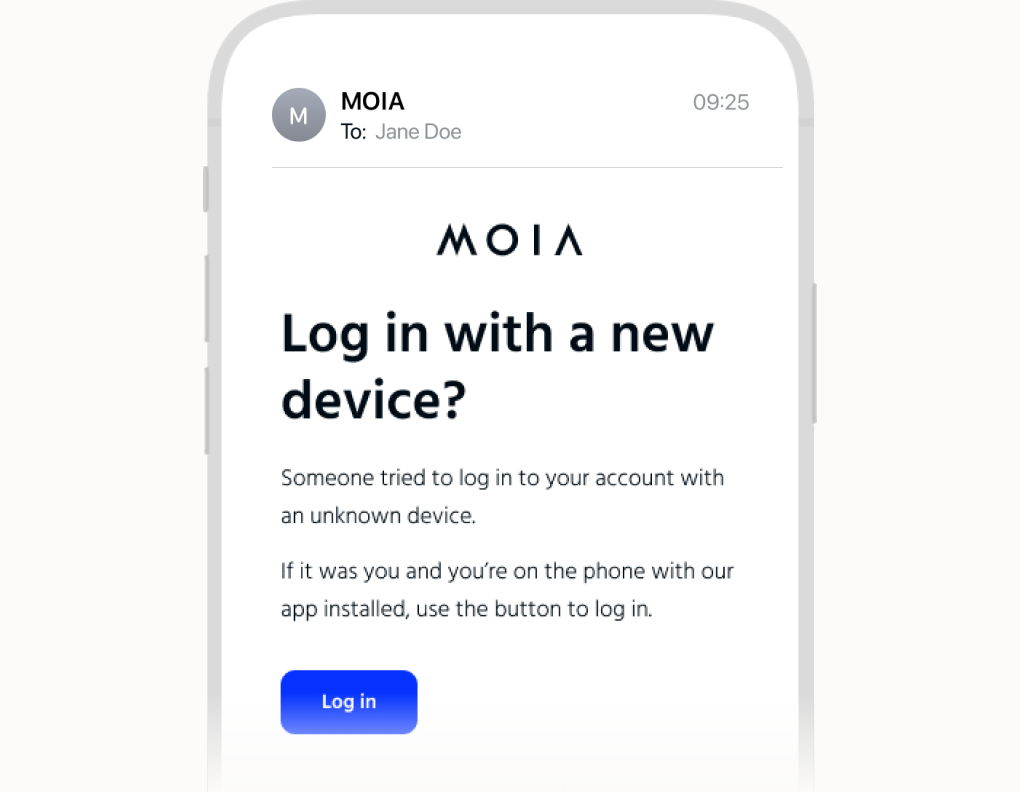 Your mobile number is new or has not been verified with us yet? Please confirm your mobile number for your MOIA account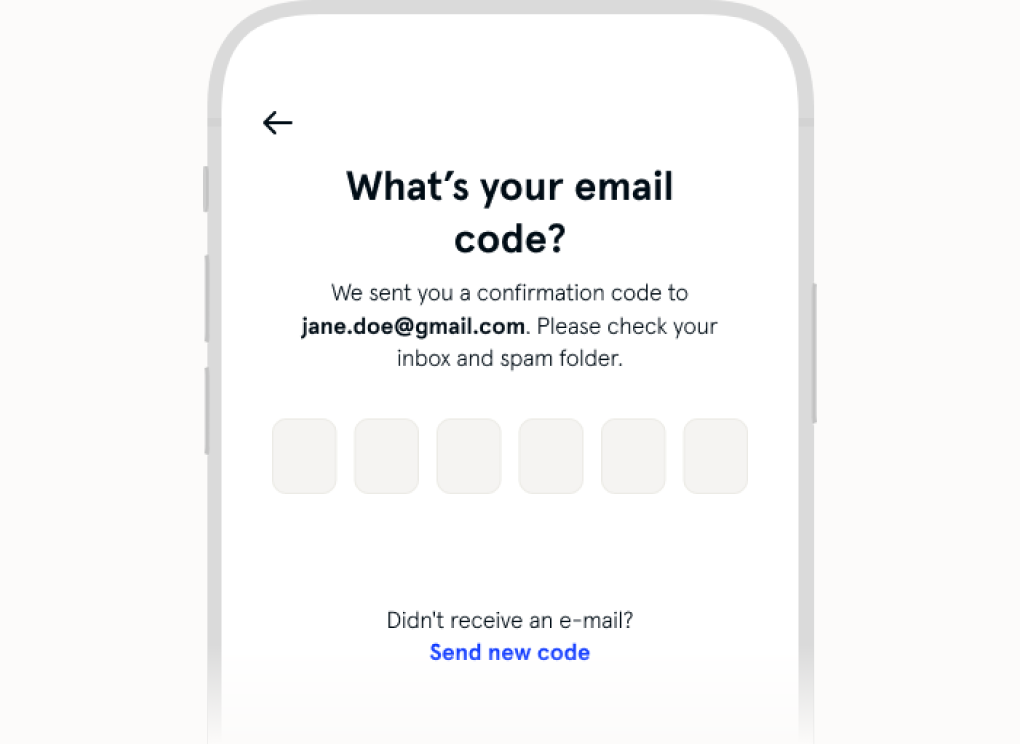 Your email address was not yet linked to your mobile number? Then please confirm this by entering a code that we will send to your email address


Can I use MOIA with more than one account?


If you want to use MOIA with multiple accounts, this is just possible with the new registration process with specific circumstances

Your MOIA account is usable with three varified conditions

Your smartphone

Your mobile number

Your email address

You can't have two different MOIA accounts with one mobile number on the same smartphone
If you want to use MOIA with two different accounts, this is only possible if you have a second email address, a second mobile number and a second smartphone
Alternatively, you can check if your smartphone supports the DUAL-SIM-Feature
Smartphones with DUAL-SIM allow two SIM cards with different mobile numbers on one device. On the smartphone, you can then switch back and forth between the two SIM cards as needed. Please contact your provider for more information
You cannot be logged in with the same MOIA account on two different devices at the same time
You can only be logged in on one device. On the other smartphone you will be logged out automatically


Changing my mobile number and email address


Changing your mobile number or email address in your account is not possible yet on your own
If you want to add a different mobile number to your profile, please log out of the app. When you log in again, you will be asked which mobile number you want to use. Then enter your new mobile number. When you are asked which email address you want to link the mobile number to, you can enter your existing MOIA email address. The system will recognize your email address and automatically add the new number to your profile
If you want to change your email address please contact the customer service team and note the following:



The request must be submitted by email with your current MOIA address
Please use the subject "Change mail account" for a quick handling
Tell us the new email address that you would like to use
Write the request to datarequest@moia.io

You have general questions about the new registration process and need help? Contact our Customer Service Team here