You can see our current service area on the map below
The service area is limited in the north a little bit beyond "Ring 3"
Whereas in the past a trip south of the river Elbe was not possible, we also operating in Wilhelmsburg since 2023
To the west we integrated parts of Schnelsen, Lurup and Osdorf
Eastward restrictions are Rahlstedt, Jenfeld und Billstedt
You can download a complete list of the districts at the end of the article

In this context, selected areas are partially financed with the help of the "BMDV-Förderrichtlinie"*:



Osdorf / Lurup

Billbrook / Billstedt / Jenfeld

Wilhelmsburg



Initially, a discount of one euro per trip to or from these areas is planned through the funding. The discount will be displayed in your price overview and automatically deducted when booking
Jungfernstieg, Neuer Wall and Große Bleichen are closed to private vehicles. As part of the shift in urban transportation, we are there for you to pick you up and drop you off. We have received the permission to enter the traffic-free area and are allowed to pick you up and drop you off at our stops
This means that we serve around two-thirds of Hamburg's residential area and are available to around 1.3 million people
To get a closer view on the service area and our funding areas just have a look in our app or on the map pictured on our website. Here you can zoom in and out to get an overview or, if necessary, view specific streets. Click on the picture below to get there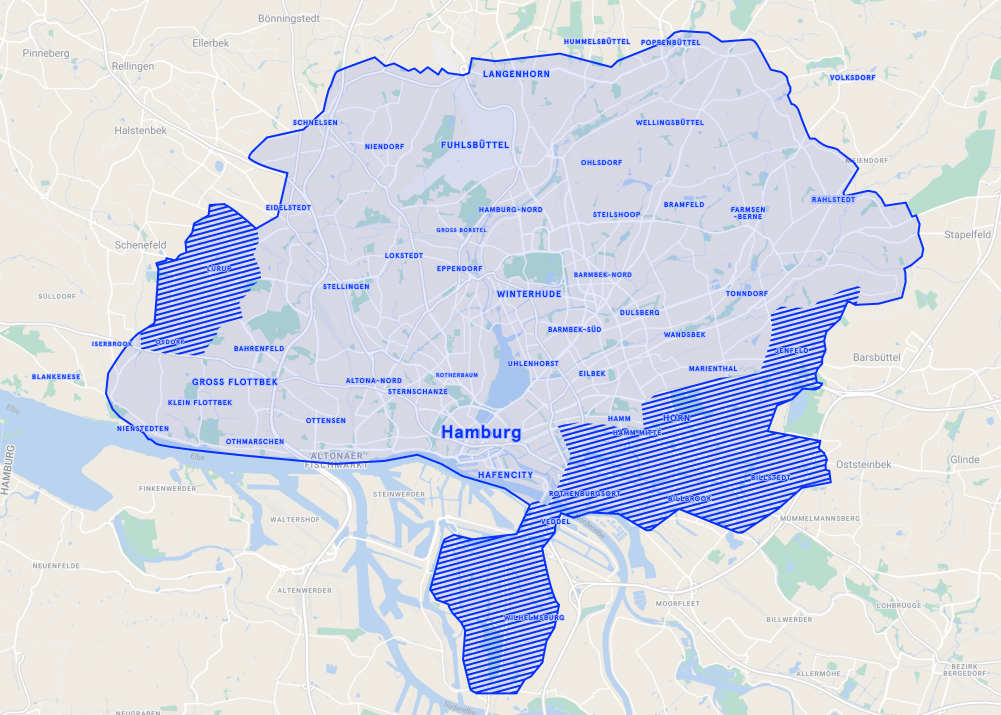 The map shows our current service area in Hamburg and the shaded funding areas
Osdorf / Lurup (west); Wilhelmsburg (south) and Billbrook / Billstedt / Jenfeld (southeast)


*Expanding our service and dovetailing our tariffs is made possible in part by the funding guidelines "Model Projects to Strengthen Public Transport" set out by the Federal Ministry of Digital Affairs and Transport, for which MOIA was selected together with the Free and Hanseatic City Authority for Transport and Mobility Change.